For one pair of earrings, you will need:
Tools:
2 pair of chain nose pliers
1 pair of wire cutters
Directions:
Hold a jump ring with 2 pair of pliers, as shown in Figure 1.
Twist the jump ring in opposite directions so the jump ring opens.
Put one pair of pliers down and put a red chile on the jump ring.
Put the jump ring through the bottom link of the chain,
and using both pairs of pliers, close the jump ring.
Repeat with a yellow chile (also on the bottom link)
as shown in Figure 2.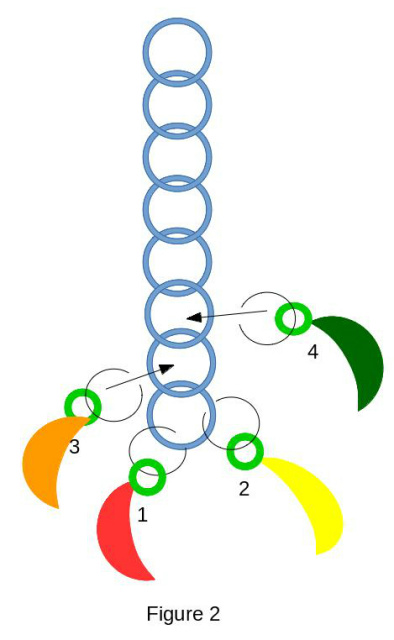 Working your way up the chain, putting 1 chile in each link
and alternating colors, add an orange, a green,
a red, a yellow, a green, an orange, etc.
Repeat these steps with the other piece of chain.
At this time, be sure each completed length of chain is the same.
You may easily do this by dangling them side by side
on a headpin. Clip off any extra links.
Open the hang loop on an ear wire and
attach to the top link of one of the chains.
Repeat with other ear wire and chain to complete your pair.
Click HERE for a printable of this tutorial.
Click HERE for our Small chiles for these earrings.
Inspired? Click HERE for other sizes of our blown glass Chile Peppers!
Happy Jack's Inc * 4905 W 2nd St * PO Box 2646 * Roswell, NM 88201 * USA * Phone: (575) 623.1544
Email: reallacysstiffstuff@gmail.com * Sites: www.happyjacksbeademporium.com * www.lacysstiffstuff.com